The Guild is a different beast

The Guild
200 8 Avenue SW
Calgary, Alberta, T2P 1B5
(403) 770-2313
Reservations
The Guild exemplifies a new and exciting take on the finest traditions of butchery, cookery and bar-keeping. The name is inspired by guildhalls from the past, which served as meeting places for secret societies for artists and merchants.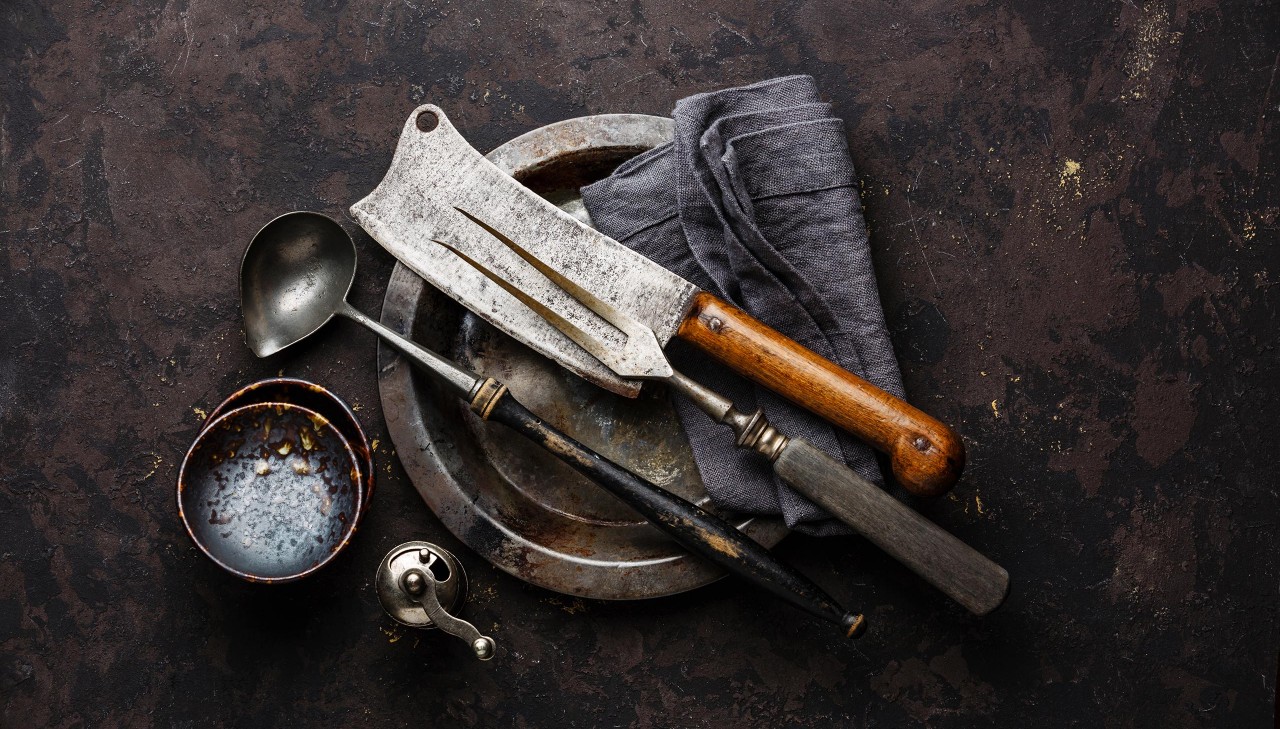 menus
Drinks
Scroll to the bottom to access our full drink menu
Happy Hour
daily from 2–6pm
Trolley 5 Draughts (16oz)   5
Eau Claire Gin & Vodka (1oz)   5
House Wines  White, Red & Rosé (6oz / 9oz)   6 / 9
Buffalo Trace Old Fashioned, Rosé Sangria & Margarita   10
Chandon Rosé   35
Pineapple Margarita
Sauza tequila, Ancho Reyes, Curaçao, pineapple, lemongrass, star anise   16
Rosé Sangria
New Amsterdam Pink Whitney vodka, Prosecco, peach  14
2am Text
rose-petal-infused Sub Rosa gin, Lillet Blanc, Prosecco, lemon, Earl Grey, lavender   15
The Guild Caesar
dill-infused Sub Rosa vodka, Walter Caesar mix, bacon, pickled things  13
Midnight Oil
Bulleit bourbon, Benvolio Prosecco, Amaro Montenegro, espresso, cherry pipe tobacco syrup   15
Burnt Cherry Manhattan
Redwood Empire whiskey, Luxardo Cherry Sangue Morlacco, Cinzano Rosso vermouth   25
Pisco Sour
Pisco, simple syrup, lime juice, egg whites, Angostura bitters   15
Mexcalli Negroni
coffee-infused Campari, Sombra Mezcal, Penfold tawny port, orange twist   17
Bearface Smash
Bearface whisky, simple syrup, lemon wedges, mint, cedar rosemary smoked glass   15
Bee's Knees
Sub Rosa gin, lemon juice, honey, cranberry bitters, cranberries   15
Mango Sour
El Dorado rum, mezcal, mango, pineapple, egg white   15
Morning Came Early
The Busker Irish whiskey, Campari, red vermouth, mint, basil, ginger   15
The Lingerie Department
Belvedere vodka, Baileys Irish cream, Chambord, maple syrup, cranberry juice   18
Grizzly Mule
Belvedere vodka, ginger beer, lime juice, simple syrup   17
Rhuby Rose
New Amsterdam Pink Whitney vodka, Tanqueray gin, Chandon rosé, rhubarb bitters, lemon juice   17
Smoked Lemonade
Laphroaig quarter cask, Black Cloud charred cedar & Angostura bitters, lemon, charred rosemary   19
Strawberry No-jito
strawberry, lime juice, simple syrup, Hellfire bitters, soda   9
Seedlip Spice 94 (non-alc)   7
Seedlip Garden 108 (non-alc)   7
Seedlip Grove 42 (non-alc)   7
Alexander Keith's IPA   8.5
Big Rock 'Grasshopper' Wheat Ale   8.5
Big Rock Traditional Ale   8.5
Farhr Hefe   8.5
Liberty Commons Lager   8.5
Hoegaarden   8.5
Parallel 49 'Trash Panda' Hazy IPA   8.5
Phillips 'Blue Buck' Ale   8.5
Steam Whistle Pilsner   8.5
Stella Artois   8.5
Trolley 5 'A Hazy Shade' Pale Ale   8.5
Trolley 5 'First Crush' White IPA   8.5
Trolley 5 'Hey Porter' Porter   8.5
Trolley 5 'High Five' IPA   8.5
Trolley 5 'Turntable' Lager   8.5
Village Cider   8.5
Fahr 'Alkoholfrei' (355ml) non-alc   6
Budweiser (341ml)   7.5
Bud Light (341ml)   7.5
Corona (330ml)   8
The Grizzly Paw Gin Squeeze (355ml)   8.25
Truck 59 'Baptism By Firetruck' Cider (473ml)   9
Guinness (500ml)   9
Prosecco, Benvolio NV Veneto, IT
13 / 68
Chandon Rosé NV California
14 / 70
Cuvée Prestige, Taittinger NV Champagne, FR
21 / 115
Grenache Blend, Fabre en Provence 2019 Côtes de Provence, FR
14 / 21 / 59
Pinot Noir, Stoller 2020 Willamette Valley, OR
17 / 26 / 70
Albariño, Fento 'La Liebre y La Tortuga' 2020 Rías Baixas, ES
15 / 23 / 62
Pinot Grigio, Montalto 2019 Sicily, IT
12 / 18 / 54
Sauvignon Blanc, La Vite 'Intrigo' NV Veneto, IT
12 / 18 / 54
Edelzwicker, Hugel 'Gentil' 2018 Alsace, FR
14 / 21 / 59
Pinot Gris, Lake Breeze 2019 Naramata Bench, BC
16 / 24 / 67
White Blend, Unsworth 'Allegro' 2018 Vancouver Island, BC
15 / 23 / 62
Chardonnay, Lake Sonoma 2018 Russian River Valley, CA
17 / 26 / 73
Pinot Noir, Noble Vines '667' 2019 Monterey, CA
15 / 23 / 62
Tempranillo, Eguiluz 2019 Rioja, ES
14 / 21 / 59
Merlot, La Vite 'Leone San Marco' NV Veneto, IT
12 / 18 / 54
Bordeaux Blend, Château Recougne 2018 Bordeaux Supérieur, FR
17 / 26 / 73
Malbec, Tinto Negro 2020 Mendoza, AR
13 / 19 / 55
Barbera, Fontanafredda 2019 Barbera d'Alba, IT
14 / 21 / 59
Red Blend, Dark Horse 'Meritage' 2016 Golden Mile Bench, BC
17 / 26 / 73
Syrah Blend, Locations 'F' NV Vin de France, FR
18 / 27 / 78
Cabernet Sauvignon, Barrel Burner 2018 Paso Robles, CA
19 / 29 / 80
Prestigious Pours
6oz | 9oz | 750ml
Pinot Noir, Tantalus 'Maija' 2019 Okanagan Valley, BC
21 / 31 / 82
Cabernet Sauvignon, Black Stallion 2018 Napa Valley, CA
28 / 40 / 100
All Day
Daily Soup
ask your server 8
Smoky Deviled Eggs
chipotle, chives, crispy shallots 12
Fried Mac & Cheese
truffle ranch 15
Crispy Calamari
banana pepper aïoli 17
Jumbo Prawn Cocktail
fresh lemon wedges, Marie Rose sauce 22
Chili Beef
fried rice noodles, chili soy glaze, green onions, lime 16
Beef Back Ribs
Beretta Farms beef ribs, Caribbean spice, mango, kohlrabi slaw 21
Steak Tartare
Beretta Farms tenderloin, capers, quail egg, chips 20
Salads
add roast chicken breast 7 jumbo shrimp 18 5oz / 10oz flat iron steak­­ 14 / 22
The Guild Caesar
romaine, lardons, fried bread, Grana Padano, housemade dressing 16
Roasted Squash
acorn and butternut squash, farro, baby arugula, cumin vinaigrette 17
Warm Mushroom
portobello cap, king oyster, oyster and cremini fricassée, baby spinach, feta, spiced walnuts 18
The Guild Cobb
roast chicken breast, honey ham, soft-boiled egg, tomato, cucumber, radish, green goddess dressing, Gruyère 24
Grilled Steak
5oz flat iron steak, baby arugula, frisée, radicchio, fingerling potatoes, asparagus, feta, soft-boiled egg, smoked maple vinaigrette 28
substitute with 10oz flat iron 36
Rigatoni Bolognese
Beretta Farms beef, housemade bacon, tomato, fresh herbs, Grana Padano 21
Ricotta Gnocchi
mushroom fricassée, roasted garlic, cream, thyme, parsley, baby arugula, Grana Padano 20
Margherita Pizza
fior di latte, tomato sauce, basil, Grana Padano, olive oil 19
Meat & Heat Pizza
tomato sauce, capicollo, VDG Salumi pepperoni and spicy Genoa, Italian sausage crumble, fior di latte, banana peppers 21
Lamb Burger
Lambtastic Farms lamb, herbed feta mousse, red pepper relish, baby arugula, brioche bun 22
Fried Chicken Sandwich
breaded thigh, kohlrabi and zucchini slaw, gochujang, toasted sesame, housemade mayo, brioche bun 21
Chuck Burger
Beretta Farms house-ground patty, lettuce, tomato, housemade mayo, sliced pickle, brioche bun 19
add cheese or housemade bacon 2
Maple-glazed Short Rib
corn purée, black barley, crispy shallots, pickled shimeji 32
Lambtastic Farms Lamb Sirloin
herb-rubbed and wood-grilled, mash, green beans, bacon vinaigrette, blackberries, lamb jus 34
Seafood Risotto
Acquerello rice, grilled octopus, white prawns, scallops, mussels, white fish, citrus, garlic, fresh herbs, Espelette pepper 34
Merchant's Sausage
housemade sausage, creamy mash, peas, gravy, fried egg, beer mustard 25
Jerk Half Chicken
grilled boneless chicken, coconut rice and beans, grilled pineapple, mango habanero sauce 28
Wood-grilled Mahi-mahi
lemongrass-scented mahi-mahi, coconut cream, spaghetti squash, sautéed greens, Thai basil, crunchy slaw 29
The Steaks
dry-aged at The Guild · served with creamy mash, herb-roasted plum tomato and chimichurri
beef sourced from Beretta Farms
Flat Iron
5oz / 10oz 28 / 36
Tenderloin
6oz / 10oz 44 / 54
Striploin
8oz / 16oz 42 / 60
Rib Eye
12oz / 16oz 52 / 64
32oz 28-day Dry-aged Tomahawk
with choice of two sides 128
Cremini Mushrooms
garlic butter, white wine, herbs 11
Mashed Potatoes
chives, crispy shallots 10
Bowl of Fries
black garlic aïoli 9
Brussels Sprouts
chili maple, brown butter crumble 12
Grilled Asparagus
butter, bacon 15
Mac 'n' Cheese
four-cheese sauce, cracker crumble 13
Poutine
squeaky cheese curds, chicken gravy 12
Grilled Vegetable Medley
eggplant, zucchini, peppers, warm vinaigrette 14
Classic Carrot Cake
warm salted caramel, butter pecan ice cream 15
Piña Colada Cheesecake
phyllo-wrapped, coconut, pineapple, mango ice cream 11
Gluten-free Neapolitan Mousse
gluten-free brownie, raspberry, white and dark chocolate, vanilla ice cream 11
Chocolate Layer Cake
cherry compote, chocolate ganache, yoghurt, cherry sorbet 12
View Full Menu
Please inform us of any allergies. We will do our utmost to accommodate, though we are unable to guarantee an allergen-free kitchen.
Bar Bites
Happy Hour Bar Bites
available from 2–6pm daily
Olives & Chips
warm marinated olives, housemade sriracha-spiced chips   10
Braised Beef Tacos
pickled jalapeños, feta, spicy aïoli, cilantro   10
Pork & Chicken Gyoza
green onion relish, gochujang   10
Salumi
VDG Salumi cured meats, beer mustard, housemade pickles, grilled bread   12
Cheese Board
firm and soft cheeses, onion jam, chutney, crostini   12
Please inform us of any allergies. We will do our utmost to accommodate, though we are unable to guarantee an allergen-free kitchen.
Cellar Selects
Cellar Selects

Reds
Cabernet Sauvignon, Canyon Road — Napa Valley, CA / 60
Cabernet Sauvignon, Kenwood — Sonoma County, CA / 68
Cabernet Blend, Tenuta Argentiera 'Villa Donoratico' — Bolgheri, IT / 110
Grenache, Clos Berenguer 'Clos de Tafall' — Priorat, ES / 83
Merlot Blend, Les Annereaux — Bordeaux, FR / 110
Merlot, Mt. Boucherie — Okanagan Valley, BC / 70
Nebbiolo, Marchesi di Barolo — Piedmont, IT / 170
Pinot Noir, Lemelson 'Cuvée X' — Willamette Valley, OR / 80
Valpolicella Ripasso Superiore, Brigaldara — Veneto, IT / 125
Sangiovese, San Polo — Rosso di Montalcino, IT / 95
Zinfandel, Michael David 'Earthquake' — Lodi, CA / 86
Sparkling
Prosecco, Benvolio — Veneto, IT / 68
Rosé, Chandon — Napa Valley, CA / 70
Rosé
Pinot Noir, Copain 'Tous Ensemble' — Sonoma County, CA / 58
White
Chardonnay, De Forville — Piemonte, IT / 62
Chardonnay, Monte Creek Ranch — Thompson Valley, BC / 74
Cortese, Villa Sparina — Gavi, IT / 78
Gewürztraminer, Tinhorn Creek — Golden Mile Bench, BC / 82
Melon de Bourgogne, Nicolas Idiart — Muscadet Sèvre-et-Maine, FR / 60
Riesling, Cave Spring — Niagara Escarpment, ON / 69
Sauvignon Blanc, Santa Ema — Maipo Valley, CL / 60
Sauvignon Blanc, Frank Millet — Sancerre, FR / 69
Sauvignon Blanc/Sémillon, Chateau Turcaud — Bordeaux, FR / 72
White Blend, Unsworth 'Allegro' — Vancouver Island, BC / 62
Large Format — 1.5L
Sauvignon Blanc/Sémillon — Chateau Turcaud — Bordeaux, FR / 112